Maybe if they were in a bigger room we would've gotten into the panel. But thankfully we passed the 1.5 hours meeting people who work in "the industry" then rightfully bailed before seeing a cardboard Alexander Skarsgard. I should've kicked someone's ass.
Comic-Con: EW's Women Who Kick Ass panel (You'll never guess who can deadlift 300 pounds)
– Malone revealed that she never had to pass any athletic tests before landing the incredibly stunt-heavy role of Rocket in Zack Snyder's movie Sucker Punch (out March 2011). "What if I had flat feet?" Malone joked. "What if my heart could only go so fast?" After winning the part, however, Malone did have to partake in extensive training with a posse of martial artists, SEAL officers, and weapons experts. "We'd go out into the fields of Los Angeles and shoot all sorts of guns!" Malone said. But what was her proudest physical achievement from the film? Deadlifting 300 pounds. "Doing dead lifts is like being on cloud nine for me," Malone said with absolute seriousness. "I really get into deadlifts. It's like a drug." The other panelists stared at Malone, their faces frozen with awed disbelief.
-And Torv pointed out Fringe's unique gender-role reversal. "Olivia was the man," Torv said. "She was off doing the tough stuff, while the boys did all the talking in the kitchen."
– Each actress was asked about the wildest stunt they've ever had to perform, and Malone's response was priceless. The actress proceeded to thoroughly describe an elaborate stunt from Sucker Punch where she was required to hang upside down — 30 feet above the floor — and somehow manage to shoot and reload a submachine gun. "The only other person I know who's gone upside down and unloaded an UMP is Ice Cube," Malone joked. Mitchell, upon realizing that she could never top Malone's answer, simply remarked, "I dangled in wells" — a Lost reference that the Comic-Con audience sweetly cheered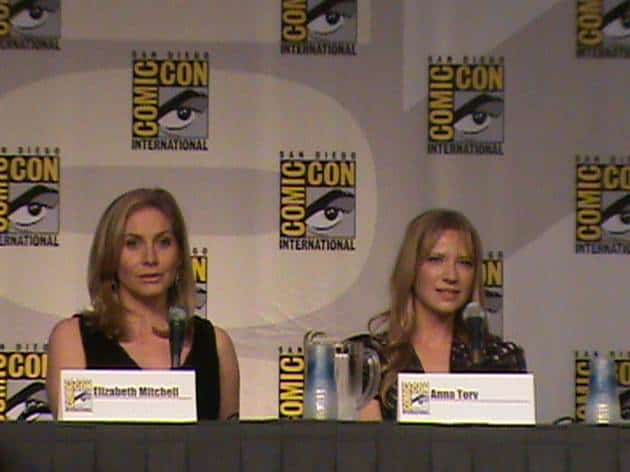 "Juliette" looks pretty good for someone born in 1970, especially considering that Anna Torv is 32, 4 years older than when Elizabeth Mitchell made Gia.